With our wide range of products, our retail team in Singapore covers supermarkets, mini-marts, convenience stores, petro-marts, e-commerce stores, duty free stores and traditional grocery stores.
Our Food Service team services hotels, restaurants, airlines, caterers, quick service restaurants, ship chandlers, bakeries, clubs, cafes and pubs. We also work with food manufacturers and caterers to provide food or menu solutions.
Our dedicated customer service support team will provide you with the best level of service.
Knowing how important safety and quality are to our clients especially in the food business, we do everything we can to give them an added assurance of our operations. Besides conforming to ISO9001, ISO22000, HACCP as well as the SGS and SAC Accreditation Mark, our facilities are also AVA Grade-A certified. Wherever our clients are from, they can order from us with peace of mind, knowing that our production meets Export Standard and complies with international market regulations.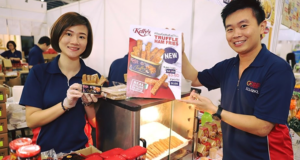 WE ARE LOOKING FOR DISTRIBUTORS
Due to the success of our products in Singapore, we are looking for distributors in other countries. If you are interested in becoming our distributor, please send your interest to enquiry-gb@golden-bridge.com and we will be contacting you soon.